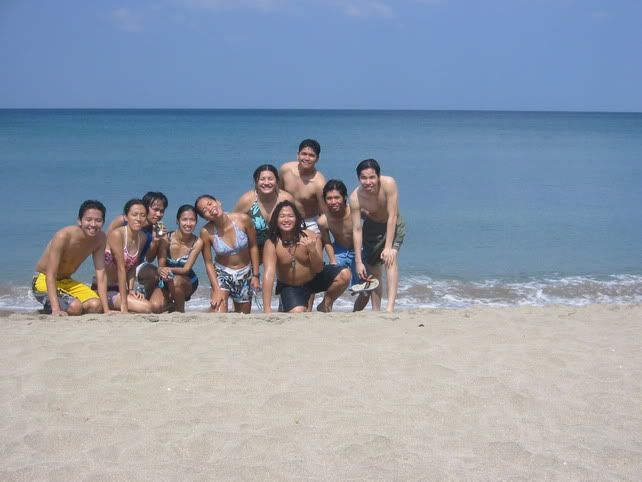 If you really think about it, I wasnt late. I was right on time. I arrived at 6:30am, the ferry left at 6:30am. Talk about perfect timing :)
It was my company's summer outing and this year, we've decided to have it on Montemar Beach Club in Bataan. From the CCP docking area, it takes an hour by ferry to reach the port of Orion. After the cheers finally died down (everyone was glad i made it hehe kapal. well im sure my friends were relieved to see me), my next problem was finding a vacant seat. Don, being the gentleman that he is, gave up his seat. (mwa!) After watching two back-to-back Dora shows (where the kids onboard repeated whatever Dora says - I was very tempted to join in), we arrived in Orion.
A bus was already waiting to take us to the resort. From the bus, Mt. Samat is distinguishable because of the giant cross in its peak. To pass the time, we made our own theories on what the cross represents. Don said the cross is part of a church, the rest of the church though was buried in the mountain. I said maybe it is not a mountain after all - maybe it is a tomb for the thousands of men who died during the Bataan Death March during WWII. Raz said a religious order built that cross or something.
Turned out the cross on the summit of Mt. Samat is a monument in honor of those who died during World War II. It is a 311-foot cross called the "Dambana ng Kagitingan" (Shrine of Valor) that stretches like a huge hand across the skies. (http://mobilemediaph.com/turista/celebrate/heroes.html)
45 minutes later, we finally reached the resort. While most of the menfolk checked out the basketball court, our barkada headed straight to the beach. The beach was a nice stretch of gray sand, and after the usual ritual of putting on sunblock on each other's back, we dived on the amazingly calm waters of Montemar.
The rest of the day flew by after that, we tried to play frisbee but the sand was too hot. (my team lost 3-1). Then we tried our hands on some 3 on 3 basketball, where we lost 5-1. And just for the heck of it(because the ropes were there), we played tug-of-war where my team lost 2-1. Hehe boy, was I in top losing form! After that, even I wouldnt want me for a teammate.
Next thing I knew, it was time to leave already. Im glad the outing turned out to be one of those days - fun, laid-back and felt like it ended way too soon.