Sinulat ko to para sa Viaje artik ko sa Enterworks Ink newsletter, post ko na rin:
Armed with our backpacks, a Lonely Planet guidebook, and several articles we got from the internet, I, with my usual travel buddies - Chel, Beng and Cath (an ex-Enterworks, see Don's article) boarded the 10-hour bus ride to Legaspi, Albay. It's a first for us to see the Bicol Region - land of the perfect coned Mayon Volcano, Bicol Express, the Butandings and waves perfect to try out Surfing!
mt. mayon

Day 1
While still on the bus, Legaspi welcomed us by a breathtaking sight - Mayon Volcano on a very clear morning. Mayon is derived from the bicolano word "magayon" meaning beautiful and it sure was. Lunch was at Waway's, a popular among locals and tourists which serves authentic bicolano cuisine. We had our first taste of the original Bicol Express and boy was it hot! (Bicol Express is a mixture of chili pepper, with chunks of meat and young coconut milk) Daraga church was our first stop, a black 18th century baroque-style church built out of volcanic rocks. It has an excellent view of Mt. Mayon if only the clouds didnt cover the upper half of it! We then proceeded to the Cagsawa Ruins, the remains of the village of Cagsawa, over 1000 people who took refuge in the church during the 1814 eruption are said to have been buried alive there. To our frustration, thick clouds covered the entire volcano - we learned from the locals that we can only get a clear view of Mayon on early mornings. The ruins was very interesting though and the stores surrounding it.
Day 2
We arrived very early on Tabaco City pier to catch the morning boat ride to Catanduanes, too early in fact because we found out that the boat leaves after lunch. Nothing left to do but wait and with so much time in our hands, we explored the city surrounding the pier. We started off by hearing the Sunday mass which was uttered entirely in bicolano. We checked out the market and discovered the creamiest and the bestest halo-halo in the land. It was topped with grated cheese instead of the usual ice cream. It takes 3 1/2 grueling hours to reach Catanduanes but to our delight, a group of friendly flipping dolphins followed our boat for some time.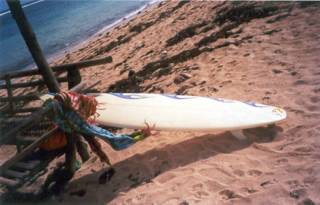 surfboard

surfers

surfer chicks

sa batuhan

Day 3
Catanduanes is known as the "Land of the Howling Winds", the closest in Luzon to the Pacific Ocean therefore making it typhoon-prone. With the exception of the occasional surfer, it is an island usually bypassed by Bicol tourists. We headed to Puraran beach known to surfers as the Majestics and found it deserted. Irene, daughter of the Elena's majestic resort, said this was because November was off-season for surfing. She still gave us surfing lessons. We learned how to balance and paddle, paddle, paddle. After sometime when our arms and chests were beginning to get sore, we abandoned the boards and explored the beach. The shore was peppered with natural rock formations and limestone cliffs and the crystal clear blue waters was ideal for snorkeling. We even met some locals who were catching fish using spears. That evening, we made a bonfire and passed around gin pomelo while roasting marshmallows and star gazing.
bonfire sa puraran beach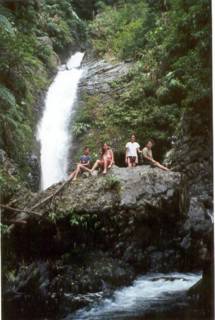 sa Nahulugan Falls

Day 4
Rented a tricycle to take us to Nahulugan Falls, we hiked up a trail surrounded by very lush and unspoiled vegetation and beyond it was the hidden waterfalls. We dived on its freezing water and later on picnicked near one of its small lagoon. It started to rain so we decided to move out, walking in the rain felt good until we heard Chel screaming. Something got into her eye and it turned out to be a limatik or leech, it took a while to calm her down so we can remove the little bloodsucker. We stopped at the nearby hospital just to make sure her eye didn't get infected, Locals said limatik abound the area especially after it rains. We were relieved that Chel was still game after that incident, we hiked a few hills to get a 360-degree view of the Pacific Ocean, Puraran and the rest of the Catanduanes. Gluttons for punishment that we are, we gave surfing one last try. Weather news said a super typhoon was about to enter the country so waves were HUGE but we found the waves still too choppy for surfing. Defeated, and tired of trying not to smash into rocks - we just chilled out on the beach.
with surfer irene

Day 5
While having breakfast and waiting for the ferry to take us back to Legaspi, wanderlust struck us. We were toying with the idea of extending the trip and staying for 2 more days in Sorsogon. We wanted to swim with the butanding or whale sharks - the world's largest fish which can grow up to about 50 feet. They gather in Donsol, Sorsogon during summer but it is said they appear as early as November. Running short on cash and our "dedication" to our jobs made us decide to buy the bus tickets back to Manila.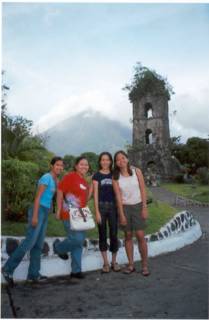 cagsawa ruins

Looking back,
We weren't able to get a picture-perfect shot of Mayon because of the clouds, and we technically weren't able to surf because waves were fickle. We even had plans of climbing a portion of Mayon but time wasn't on our side. These unrealized plans made us respect and accept that nature is not a one big show and we are thankful to have seen and experienced as much as we had. Aside from that were the warm and friendly bicolanos, who not only let us taste their hot fiery food but their culture as well.